In a thrilling matchup between the Miami Heat and the Denver Nuggets, Gabe Vincent emerged as the star player, delivering a five-star performance to secure a 111-108 win for his team in Game 2 of the NBA Finals. This victory leveled the series score at 1-1, setting the stage for an intense seven-game showdown.
Vincent showcased his exceptional skills by leading the Heat with an impressive 23 points. He displayed remarkable accuracy, shooting 8 of 12 from the field and converting 4 of 6 three-point attempts. Additionally, he contributed three assists and two steals, making a significant impact during his 32 minutes on the court.
Vincent's standout performance was complemented by the solid contributions of Miami's star players, Jimmy Butler and Bam Adebayo, who both tallied 21 points each. Butler also demonstrated his playmaking ability with nine assists and four rebounds, while Adebayo showcased his versatility with nine rebounds, four assists, and two blocks.
Max Strus and Duncan Robinson were the other Heat players who made notable offensive contributions, scoring 14 and 10 points, respectively. Their clutch performances were crucial in securing the team's victory.
Vincent's stellar play also played a vital role in limiting the efficiency of Denver's key players. Jamal Murray (18 points, 10 assists), Aaron Gordon (12 points, seven rebounds), and Michael Porter Jr. (five points). However, they could do little to stop the exceptional performance of two-time NBA Most Valuable Player Nikola Jokic who recorded an outstanding 41 points and 11 rebounds while shooting an impressive 57 percent from the field.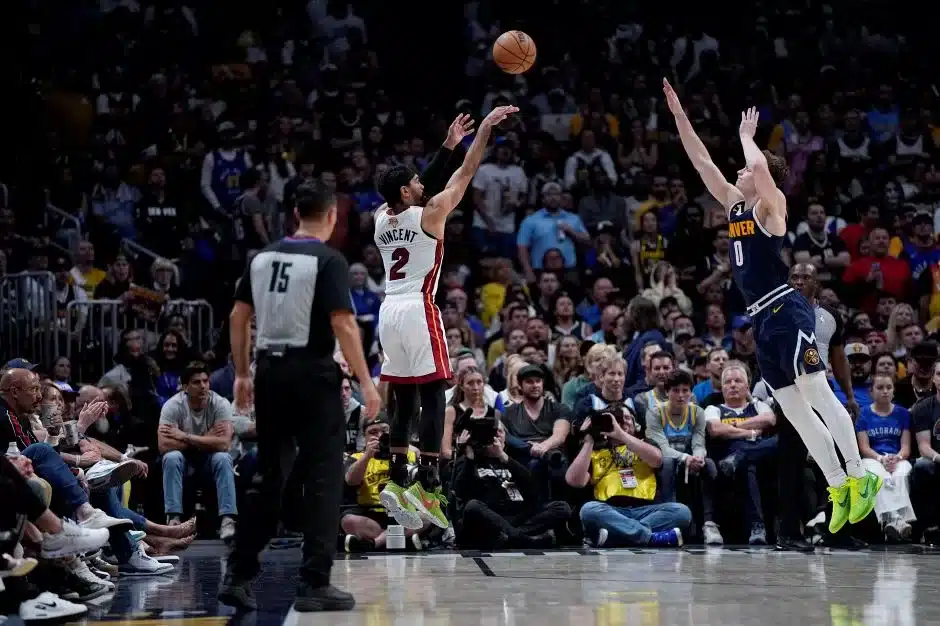 When asked about how the Heat are defying doubters in the finals, Vincent emphasized the team's singular focus on winning games, disregarding external opinions. "I speak for my whole team when I say we don't give a damn. We just want to get four wins," he asserted confidently.
Erik Spoelstra, the Heat's coach, praised Vincent's determination and versatility, hailing him as a special player who has exceeded expectations. He acknowledged the challenges of transforming a shooting guard into a point guard, a transition that Vincent wholeheartedly embraced. "He's a special guy, he really is. … He was a gunslinger, a two guard. We wanted to develop him into a combo guard, somebody who could organize us and be an irritant defensively," Spoelstra remarked. He also highlighted the rarity and difficulty of such a transformation in the NBA.
With Gabe Vincent's exceptional performance leading the way, the Miami Heat demonstrated their resilience and determination, setting the stage for an electrifying NBA Finals series.