Highly-rated Nigerian point guard, Joy Ighovodja, has committed to play for NCAA Division 1 Basketball side Wichita State Shockers men's basketball.
The 6ft 4in guard who represented Nigeria at the FIBA Africa U-16 basketball tournament in Cape Verde back in 2019 has spent the last two years honing his skills at the NBA Academy Africa in Saly, Senegal alongside some of the continent's top prospects such as Reuben Abuchi Chinyelo, Babacar Sané, Mohab Yasser and a host of others.
Although not UCLA, Yale or Duke, Wichita State Shockers have produced notable players currently plying their trade in the NBA including Phoenix Suns Landry Shamet and Toronto Raptors guard Fred VanVleet.
Reacting to the receiving Ighovodja's commitment to Wichita, head coach Paul Mills says he is excited to have a player of his talent and quality on hi roster.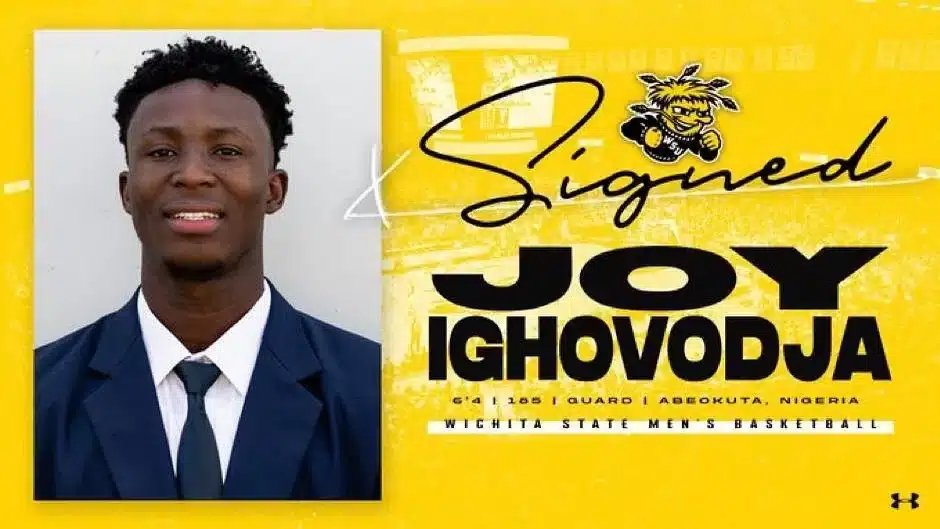 "I am excited to have Joy be a part of Wichita State basketball. Joy has terrific skillset combined with great length for a guard his size and will be a force for many years to come," Mills told the University website. 
"He is a product of NBA Academy Africa where his development has made monumental strides. He is being challenged every day by other high-level players who all receive high-level coaching from the Academy. More importantly, Joy is a young man of high character who will represent Shocker basketball well, on and off the court. Please join me in welcoming Joy to Wichita!"
Ighovodja, who only started playing basketball competitively four years ago at the age of 14, possesses the physical attributes to be a force in collegiate basketball with a wingspan of 6 feet 10 inches and a vertical jump of 39 inches.