Josh Okogie's clutch block on star rookie Paolo Banchero was enough to earn the Phoenix Suns a 116-113 win over the Orlando Magic on Friday at the FootPrint Center.
Orlando came back from as many as 12 points down to tie the game in the fourth quarter and with just a few seconds to the end of the game, forward Banchero attempted a three point throw that would have tied the score and take the game to overtime but Okogie became the hero for the Suns when he went against all odds to block the three point attempt by the first overall pick rookie.
Despite shooting just 28.6%, Okogie finished with 15 points, four rebounds, four assists, three steals and three blocks to help the Suns return to winning ways having lost their last three games to the Sacramento Kings, Golden State Warriors and the Milwaukee Bucks.
Devin Booker led the Suns in scoring with 19 points, Cameron Payne had 18 points, five assists and two rebounds while Chris Paul and Deandre Ayton both settled for 16 points each. Markelle Fultz scored a game-high 25 points nine assists and seven rebounds, Banchero had 18 points while Cole Anthony contributed 17 points.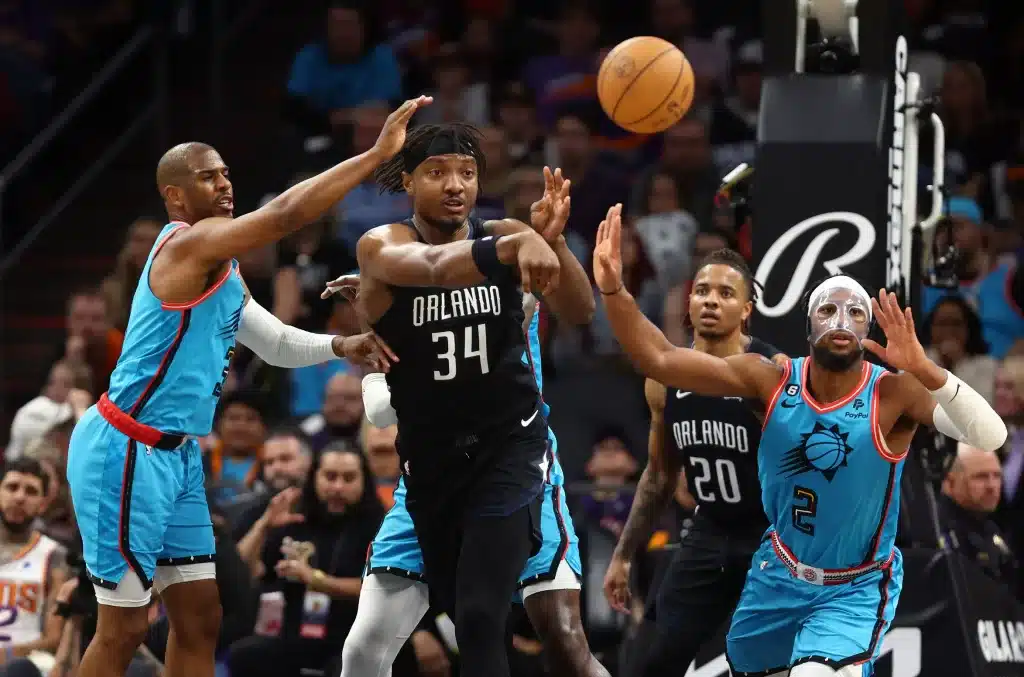 Speaking after the win, Okogie says he is happy to do the dirty work to get the team the win and he's also happy to challenge himself against the opposition's best players.
"I've been doing this since I got to the league, it's nothing new to me. I love the challenge and opportunity to go out there and guard guys like Steph Curry, Giannis, Antetokounmpo, Banchero, Franz Wagner, I think it's fun and I'm always up to the challenge."
All-star guard Chris Paul also hailed D'Tigers player's defensive prowess stating that they trust him to get the block despite how dangerous it was.
"He's really tough. What Josh is doing is some of the stuff I've never seen before. That block in Houston, that was tough and not only did he get the block, but he went and dunk on the guy. Today, that's a gutsy block there. Being up there anything can happen but we trust him. He's built that trust by having those types of plays."