Nigerian striker, Robert Odu, has joined Hong Kong Premier League side Resources Capital FC popularly referred to as Tai Chung till the end of the 2022/23 season.
The 23-year-old law graduate from the University of Lagos who last played for Saudi Arabia Second Division side Qilwah FC at the start of the 2022/23 season but left by mutual consent during the January transfer window will be hoping the move will serve as a pathway to better offers. 
The move sees him return to the orient nation where he began his professional career with Happy Valley FC who currently play in Hong Kong's second tier league. During his time at Happy Valley, Odu scored eight goals and created two assists in 16 appearances.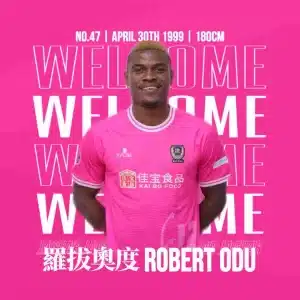 Speaking on the move, Odu said he is excited to be joining and can't wait to get on the pitch and start scoring goals also revealing that the club's projects appealed to him. 
"The peak is one of the few teams in the Hong Kong Super League that emphasise the control of the ball. The style of organising the offensive in the later court is worthy of respect, plus Ye Zhuowen and Wu Jiayang who have worked together in the past, there is no doubt about the This is a young and forward-looking team with a great coach and passionate fans," Odu told the club website.
"I am so excited about it and wish myself and the team success, I can't wait to meet my teammates now and look forward to playing alongside Felipe on the front line."
The Nigerian striker says he hopes to enjoy himself in the league and score as many goals as possible to help the team make the championship playoffs.. Resources Capital  are currently seventh in the Hong Kong topflight league.