Quadri Aruna has found some secret sauce at Singapore Smash as he has overcome his losing record against Tomokazu Harimoto, defeating the Men's Singles 4th seed 3-0 (11-7, 13-11, 11-7).
When it came to facing each other on the international stage, Aruna was the clear underdog. Before today he had 0-3 head-to-head record. Add on top of this he had only managed to put one game on the scoreboard in any of those matches.
"I actually spoke with some coaches here and they gave me some great advice on how to play Harimoto so I thought, "Let me try." I've been trying out some tactics before against him and it didn't work but the advice from the coaches really worked very well for me today. But of course I have to keep the advice to myself for our next meeting," Aruna said.
One thing was clear from the outset; it was the Quadri Aruna show out on Infinity Arena. The Nigerian brought the heat and owned the table, punishing Harimoto with alternating doses of power and spin.
Trailing 5-0 in the the second game, Harimoto dug deep to bring the score back to level. The teenager pushed the match in to deuce but couldn't muster enough for the game as Aruna found the answers.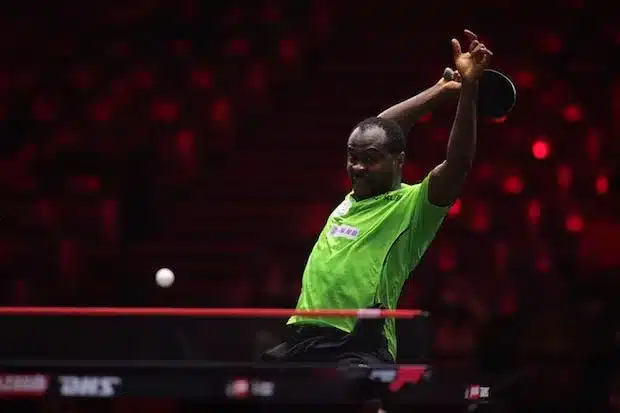 "When it was 5-0, I had been serving short to his forehand and I was trying to change it up, maybe serve long to his backhand just to make him a little bit uncomfortable. Unfortunately, it was a mistake and he caught up to 5-5, but I wasn't giving up. I put myself together and kept fighting," he added.
With a 2-0 lead established, Aruna squashed any hopes of a comeback, dominating the rallies and sailing to his first ever victory over the wonder kid.
Spin and power proved a deadly combination as Quadri Aruna dominated Infinity Arena.
Singapore is fast becoming a special place for the king of Africa, with deep runs becoming part and parcel of his visits to the Lion City.
He said, "I'm very happy here — Singapore always brings positive memories. Two years ago, I made it to the quarterfinals here when I beat Liang Jingkun from China (at the WTT Cup Finals Singapore 2021). This actually was a very good one for me. For Africa and Nigeria, it's another quarterfinal and I really hope I can make it count this time too."
Aruna will now face the winner of Hugo Calderano and Darko Jorgic in the quarterfinals.