Despite the Miami Heat's 104-93 loss to the Denver Nuggets in Game 1 of the NBA Finals at the Ball Arena in Colorado, D'Tigers guard Gabe Vincent delivered an impressive performance. He scored 19 points, making five of his 10 attempts from beyond the arc.
The Heat faced a shorter rest period compared to the Nuggets, having being pushed to Game 7 by the Boston Celtics in the Eastern Conference finals. On the other hand, the Nuggets enjoyed a nine-day break after sweeping the Los Angeles Lakers 4-0 in the Western Conference finals, making them more refreshed for the game.
Vincent, who has been a standout player for the Heat in the playoffs, carried his momentum from the Conference Finals, contributing 19 points, five assists, two rebounds, and one block in 38 minutes of play. Bam Adebayo also had an outstanding performance, recording 26 points, 13 rebounds, and five assists. Haywood Highsmith added 18 points, while Jimmy Butler struggled, scoring only 13 points.
Nikola Jokic, a two-time NBA Most Valuable Player, had a triple-double for the Nuggets, leading the team to victory with 27 points, 14 assists, and 10 rebounds in 40 minutes. Jamal Murray contributed 26 points and 10 rebounds, and Aaron Gordon scored 16 points.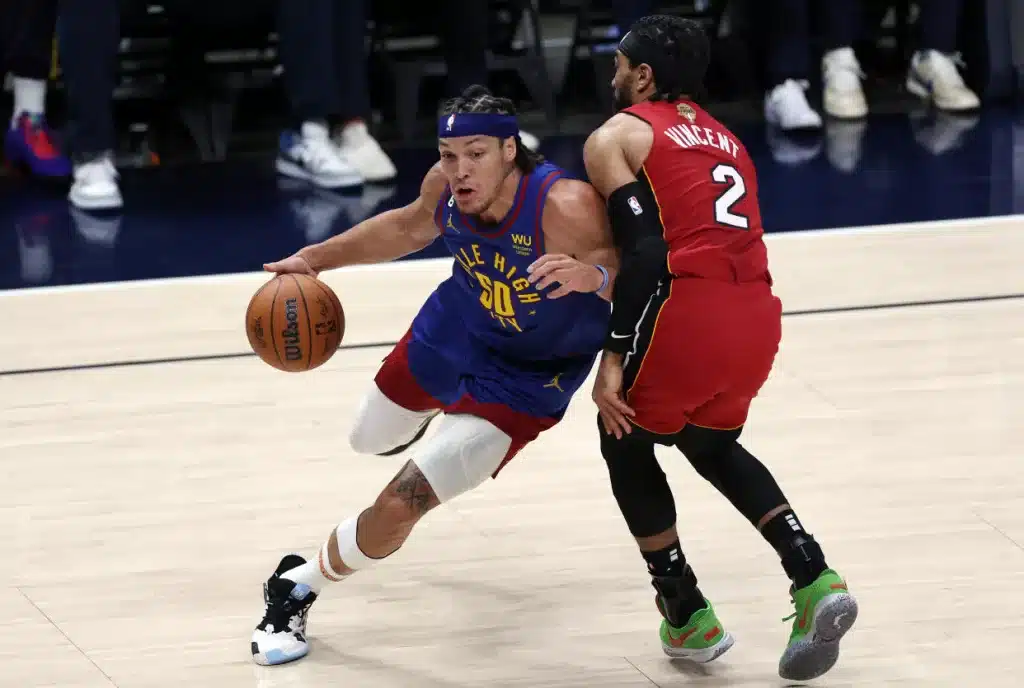 Following the loss, Vincent expressed confidence that the team would learn from their mistakes and make adjustments for Game 2.
In his post-match interview, he acknowledged the Nuggets' physicality and emphasized the need for the Heat to adapt. He also recognized the challenge posed by the talented and well-coached Nuggets, but remained optimistic about the upcoming games in the series, looking forward to Game 2.
"They're a physical group. I think we had to adjust to their physicality quite early. It's a long series, first of four wins, adjustments will be made and we'll learn from this loss," Vincent said during the post match interview. 
"They're a good team, they're well coached, they're talented. I't going to be a challenge, it's the finals and I don't expect it to be any other way and we're looking forward to Game 2."