With two weeks to the start of the 2023 FIFA Women's World Cup, Super Falcons coach Randy Waldrum, has continued to trade words with his employers, the Nigeria Football Federation over their lackadaisical attitude towards the team and their penchant for owing salaries to staff and players.
A week ago, the coach accused the federation of failing to support the team with proper preparation ahead of the Women's World Cup slated for Australia and New Zealand from July 20 to August 20 as well as calling them out for trying to force a player into the squad while speaking on a podcast in the United States.
The coach has once again slammed the federation for owing him for 14 months as well as owing some players for over two years. He also stated that the only reason he's stayed for that long is because of the love he has for the team.
"What keeps me going is the players otherwise I would have walked away from this job a long time ago," Waldrum said via The Whistle Podcast.
"I saw the NFF's response to my previous comment on the other podcast and it all seemed like a really childish response. In the two-and-a-half years that I've been here, I've never had a time that the federation came to me and ask 'What do you need coach?'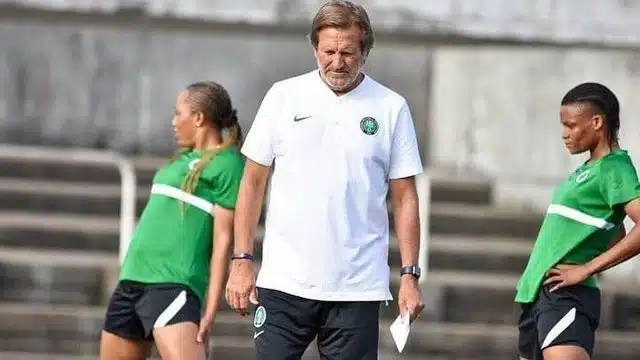 "Up until about three weeks ago, I had been owed 14 months' salary and they paid just seven months. We still have players that haven't been paid for about two years when we played the summer series in the United States.
"I'm not going to be quiet anymore. In October, every country was given $960,000 from FIFA to prepare for the World Cup, where's that money? FIFA allows your staff to have up to 24 people but we only have 11. We don't have scouts to watch the teams in our group or potential opponent."
The NFF has however replied to Waldrum through its Media and Communications Director Ademola Olajire who called the American and former Trinidad and Tobago coach a loudmouth and an incompetent coach.