Napoli has confirmed that Victor Osimhen, a Super Eagles striker who got injured, will not play for three months.
Osimhen hurt his head when he collided with Milan Skriniar, an Inter Milan defender, on Sunday. They were playing a Serie A game.
He went to a hospital in Milan on Sunday evening. The doctors stabilized him and he travelled to Naples the next day.
The doctors in Naples found out that he had a broken eye socket and cheekbone.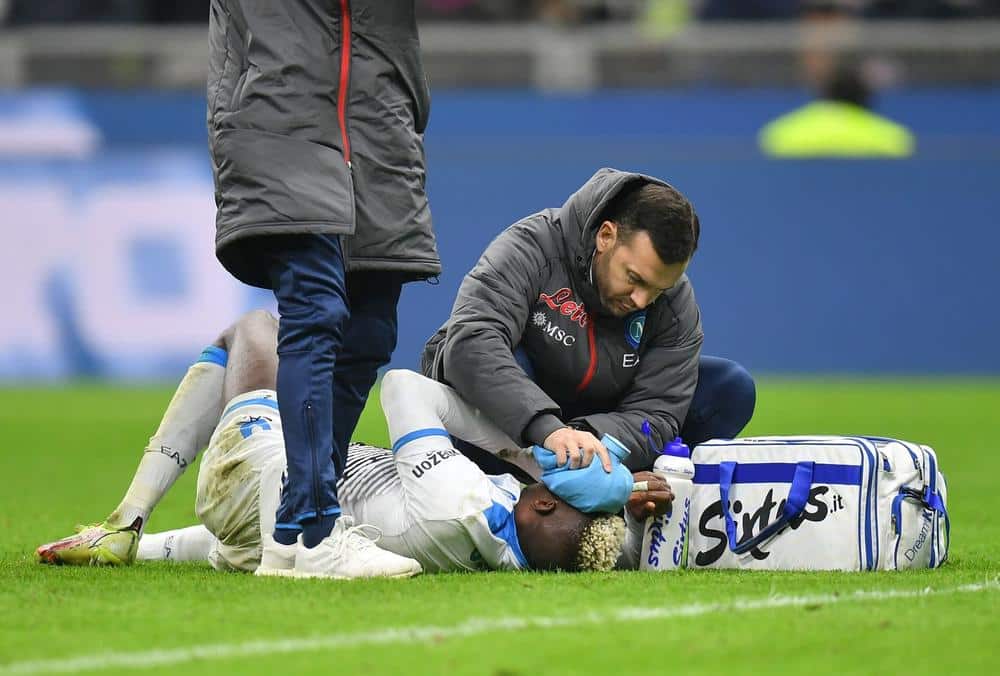 On Tuesday, Osimhen had surgery in Naples. It was successful.
Napoli said on their website that Osimhen will need about 90 days to recover.
They wrote: "Victor Osimhen was operated on this morning by Prof. Tartaro, assisted by Dr. Mario Santagata and in the presence of Dr. Canonical, for a reduction and restraint operation of multi-fragmentary and displaced fractures of the malar bone, of the zygomatic arch and pommel, of the floor and lateral wall of the orbit, and of the diastasis of the frontal-zygomatic suture.
"The synthesis of the bone abutments was done with titanium plates and screws. The player is fine and will remain under observation for a few days.
"The prognosis is estimated to be around 90 days," Napoli wrote on their website.
Sadly, Osimhen will not be able to play in the Africa Cup of Nations in Cameroon. It starts on January 9, 2021.
Osimhen has been doing very well for Napoli this season. He scored nine goals in only 14 matches.
He also scored four goals in the 2021 AFCON qualifiers. He was one of the top scorers.
Osimhen is a talented and young player who has a bright future ahead of him. He joined Napoli from Lille in 2020 for a record fee of €70 million. He is the most expensive African player ever.
He has also been a key player for the Super Eagles, scoring five goals in 14 appearances. He helped Nigeria qualify for the 2022 World Cup in Qatar.
We wish him a speedy recovery and hope to see him back on the pitch soon.