2022 in Nigerian sports has been all about Tobi Amusan who has shattered record after record in the 100 metres hurdles.
From Paris (Diamond League), Saint Pierre (African Games), Birmingham (Commonwealth Games), Eugene (World Athletics Championships) to Zurich (Diamond League final), Amusan became the talk of the town not only in Nigeria but globally. Indeed, never has Nigeria been this dominant in any sprint event globally or in other track or field categories.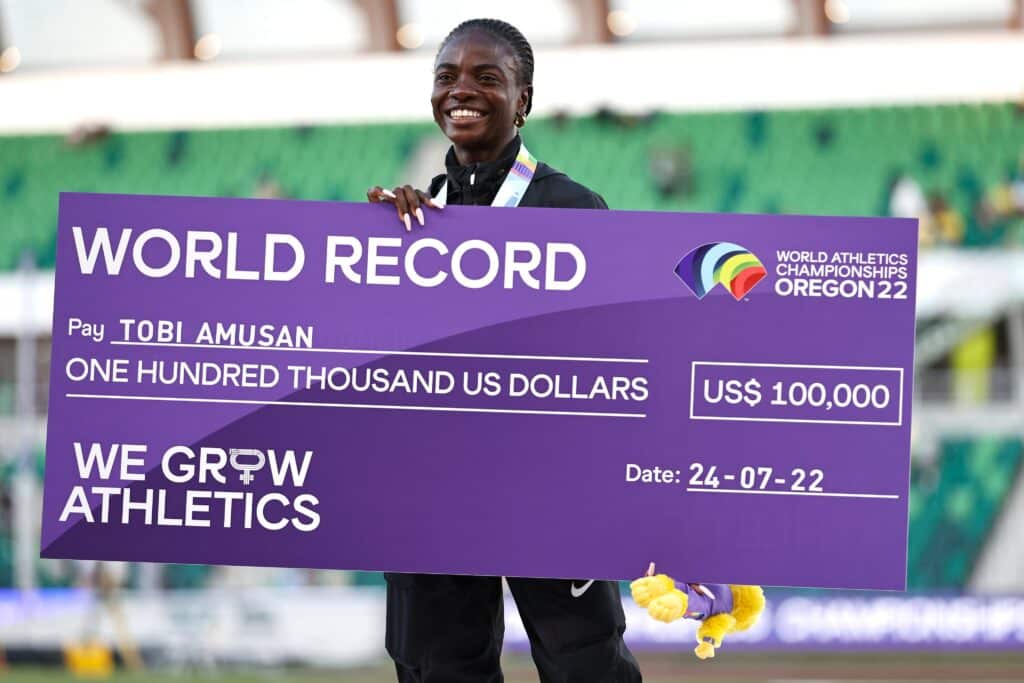 It has won her a lot of praise and envy in some quarters as well. All of Amusan's top performances have led her to be nominated for the Women's World Athlete of the Year by World Athletics. She is the first Nigerian ever nominated for the global awards and is undoubtedly a strong contender to win.
Back home, she was rewarded with a cash prize of ₦5 million and a house by the Ogun State government. On October 11, 2022, Amusan was conferred with Officer of the Order of the Niger by President Muhammadu Buhari during the National Honours Awards in Abuja. Amusan is clearly on top of the world at the moment and she couldn't be any happier.
As much as Amusan deserves all the accolades coming from the government, one wonders if it is really worth having. It's a dream to be a recipient of the highest civilian honour in the country but is it worth it from a government that never had athlete's growth and development a top priority?
Amusan's struggles on her way to the top have been narrated a lot. Some didn't believe she had what it took to be top talent and thus discarded her abilities. She never gave up and proceeded to the United States to study at the University of Texas at El Paso and became a student-athlete.
Amusan was more noticeable at this point but still had some challenges such as funding. She admitted having to take loans of up to $50,000 in preparation for the World Athletics Championships because of injuries she had to battle with. Well, the $100,000 cheque she won for breaking the 100 metres hurdles world record in Eugene and $30,000 for retaining her Diamond League crown in Zurich has certainly covered the repayments. One wonders why Amusan would have to go through such when the sports ministry and athletics federation should be taking care of these needs.
It's surprising how they want to take sides with her when she's successful but quiet when she needed help and support. It's more baffling when some of the officials in these agencies want to take credit for aiding Amusan's success when she was working her socks off on her own.
The government will use Amusan's feat to score cheap political points that do not help the growth of sport and youth development the country so desperately needs. Rather than try to claim credit for Amusan's success, efforts should be made to ensure the proper facilities and infrastructure are in place so Nigeria can have more Amusans in the near future. This is obtainable in countries like the United States, Jamaica, China, Australia, Canada, and the United Kingdom among others where premiums are placed on ensuring excellence at major athletics events across the globe.
Introducing your new Officer of the Order of the Niger Tobi Amusan!!!

📹 via @BashirAhmaad pic.twitter.com/yBZBuT1xiR

— Bold Sports 🇳🇬 (@Boldsportsng) September 15, 2022
Amusan rightly acknowledged that sports development at the grassroots is lacking and it is not helping in producing athletes like her.
"Grassroot development of sport is something we actually lack. We tend to lose our top athletes to trainers in the United States. If we have such development here to groom young ones, we are going to have a lot of Tobi Amusan," she said at a media event in Lagos in September.
Nigeria is far from such a reality and it's no surprise that many of the athletes have to reside outside of the country so they can train optimally.
Some have traded their Nigerian citizenship to compete for other countries such as Salwa Eid Naser (born Ebelechukwu Agbapuonwu), Peace Nwalehia, Thaddeus Okpara, Edidiong Ofonime Odiong and Oluwakemi Adekoya, who all represent Bahrain now. The likes of Samuel Francis, Emmanuel Bamidele, Femi Ogunode, and Tosin Ogunode all represent Qatar. Not forgetting Francis Obikwelu who ditched Nigeria to represent Portugal.
All these athletes have recorded varying degrees of success both locally and internationally for their adopted countries and have no regrets about ditching their motherland, which is rather unfortunate.
For those representing Nigeria, even when it's time for events, preparations are done haphazardly, thanks to factors such as needless internal wrangling and ineptitude within the sports ministry and local athletics regulatory body. This was on full display ahead of the 2020 Summer Olympics in Tokyo in which Amusan participated.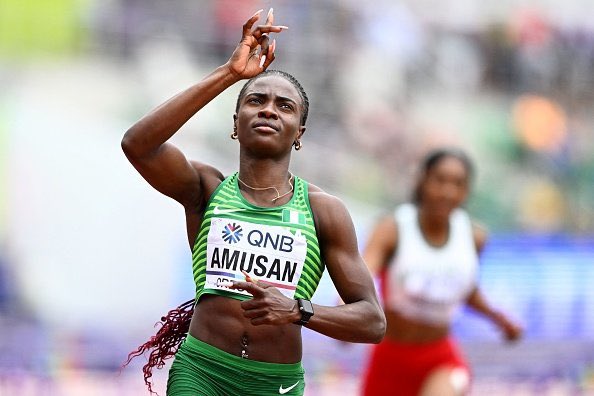 Nigeria is brimming with immense talent in track and field events. They simply need the enabling environment and resources to thrive. Enough of the politics and photo ops.
Even when it comes to awarding athletes for their success, it should be a worthwhile award and not something that will not be fulfilled for decades like was done to the Nigeria men's football team that led the country to its first World Cup outing in 1994 and the gold medal-winning team at the 1996 Summer Olympics in Atalanta.
The narrative needs to change for the better because if it doesn't, there won't be many Amusans in the near future to do Nigeria proud and that would be a shame.