Super Falcons head coach Randy Waldrum has accused the Nigeria Football Federation of trying to interfere in his team selection for the 2023 FIFA Women's World Cup while also accusing the body of a lack of support for the team.
The Falcons are set to depart Nigeria for Australia on Saturday to continue their preparation for the competition billed to hold from July 20 to August 20 in Australia and New Zealand.
The American coach slammed the NFF for lack of support for the team which has in turn meant the squad is not well prepared for the biggest female football showpiece in the world.
"I know we're not prepared the way we need to be.. Been very frustrated with the federation and the lack of support. We were supposed to have a camp for 10 to 12 days in Nigeria before going to Australia for another 10 to 15 days but the NFF canceled the camp in Nigeria," a disappointed Waldrum said on the Sounding Off on Soccer with John Krysinsky.
Waldrum also accused the federation of trying to impose players from the domestic league on him despite not having any knowledge of the players nor a scouting report about their capabilities.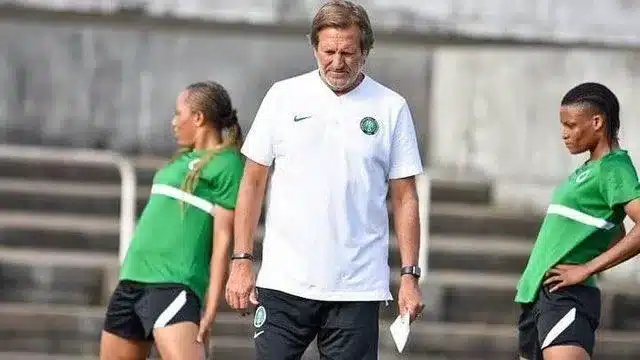 "They wanted me to pick a goalkeeper from Nigeria for the World Cup, a goalkeeper that I have never seen, has never been in one of our camps. I said no that my contract says that I pick my teams so they retaliated and said I can't take my assistant coach Lauren Green.
"After the loss in Morocco (WAFCON 2022), the players had not been paid so they boycotted training before the match against Zambia. My backup goalkeeper (Tochukwu Oluehi) spoke to the federation about not getting paid and they didn't like how she spoke so they dismissed her from the national team. They eventually let her back in only if she tendered an apology.
With the current disarray, expectations placed on the Falcons to reach the knockout stages have plummeted. The Falcons are expected to play Canada in their opening game of the competition on July 21. They'll also face hosts Australia and the Republic of Ireland.