Precious Achiuwa recorded a career-high 27 points on 11-of-16 shooting to lead the Toronto Raptors to a 123-105 win over the Portland Trail Blazers at the Moda Center on Sunday.
Achiuwa also added 13 rebounds, two steals and one block in the win. Forward Pascal Siakam had 24 points, Gary Trent Jr. contributed 19 points against his old team while Scottie Barnes added 18 points, 10 rebounds, and 7 assists.
D'Tigers forward who got to be in the starting line-up due to a wrist injury to OG Anunoby says it was possible because he trusted his teammates to find and make plays for him.
"I'm still getting into rhythm with the more games I play, getting into shape as well. It's just about trusting my teammates, playing the right way, letting the game come to me and making the right plays," the 23-year-old said after the game.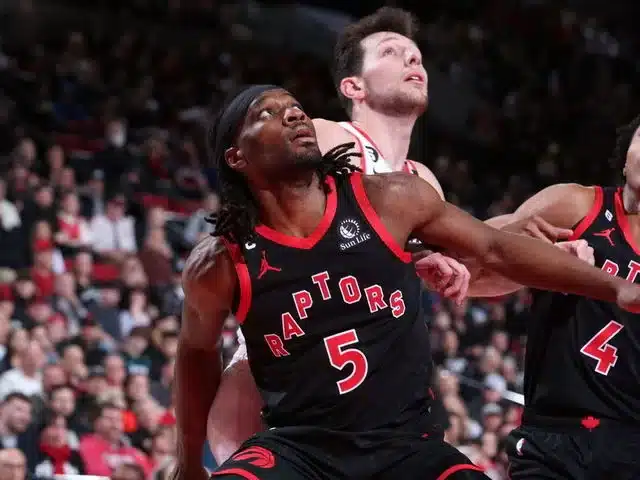 Raptors coach, Nick Nurse, also hailed Achiuwa's performance and ability to step up when needed, "He was in the right place at the right time today, and that's is a good sign that he's finding a relocation, location and making himself available," Nurse told newsmen after the road win.
"He made really good reads and his teammates found him and he also made a couple of plays on his own. Overall I was happy that he was available because when we play, teams will step up to Pascal (Siakam), they'll step up to Scottie (Barnes), they'll step up to Fred (Vanvleet) and we needed to have that option available and he provided that."
Achiuwa over the last 5 games has averaged 18.4 points, 10.2 rebounds, shooting 63% Field Goals as well as recording four double-doubles. The Raptors are billed to play the Phoenix Suns on Tuesday.