After suffering two straight losses in the UFC light heavyweight division, little known Nigerian MMA star, Kennedy Nzechukwu has bounced back with three straight wins in the division all coming by way of knockouts and submission – he dedicated his newest victory to his late mother.
Nzechukwu recorded his third straight win with a Technical Submission (guillotine choke) over Devin Clark at UFC 288 sending the American to sleep and lifeless while still on his feet in 2:28 of round 2. The Nigerian had survived an early scare after Clark landed a flurry of shots, however, he was able to take charge of proceedings in the cage before the end of round 1.
The 30-year-old Imo State-born UFC star who had defeated Karl Robertson in July 2022 via TKO (elbows) while also raining down knees and punches to take out Ion Cutelaba last November continued to finish his fights without relying on decisions for the third consecutive time.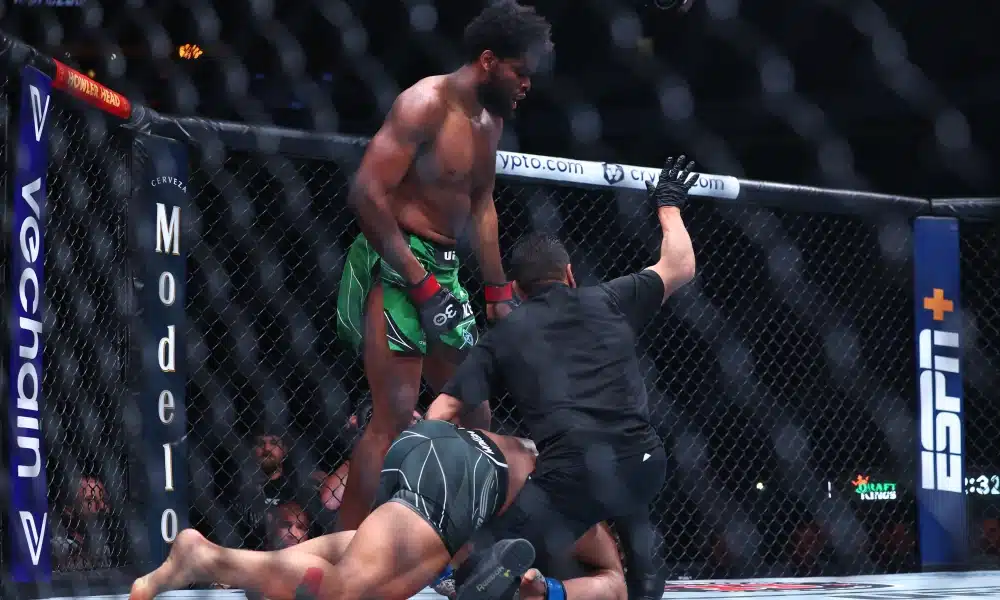 Reacting to the victory, Nzechukwu thanked the organisation while also dedicating the win to his late mum.
"I wanna thank the UFC organisation because they took care of me, my mum passed away November 19 2022 after my win against Ion and that really hurt, so, I wanna dedicate this to my mother and give all the glory to God," Nzechukwu told host Joe Rogen after the win.
"My game plan was to pressure him not to sit back and wait, he caught me when the fight started because my hands were down but to God be the glory, I got the victory in the end. In the end, it's awesome knowing all the hard work paid off."
Asked if he would pick anyone to fight next time, the Nigerian said, "I don't call out anybody, I just fight whoever the boss gives me but I wanna take time to appreciate the crowd here in New Jersey."