…wins Italian Best Foreign Athelete of the Year award
Napoli striker Victor Osimhen says his dream is to one day play in the English Premier League.
Osimhen said this on Monday after winning the Best Foreign Athlete of the Year award by the Italian Foreign Press Association.
The Nigeria striker has been in prolific form in the Italian Serie A after joining Napoli for an African record fee of €80m in 2020.
He tops the Serie A goal log this season with 19 goals, five ahead of his Inter Milan's Lautaro Martinez, who sits in the second position.
Speaking after receiving the award, Osimhen said, "I think playing in one of the top five leagues in the world is an amazing feeling for me.
"A lot of people worldwide consider the Premier League as the best and the strongest league but now I'm in one of the best leagues in the world which is the Italian Serie A.
"I'm working so hard to make sure that I achieve my dream of playing in the Premier League some day but like I said, it's a process and I just want to keep on this momentum and continue to do well."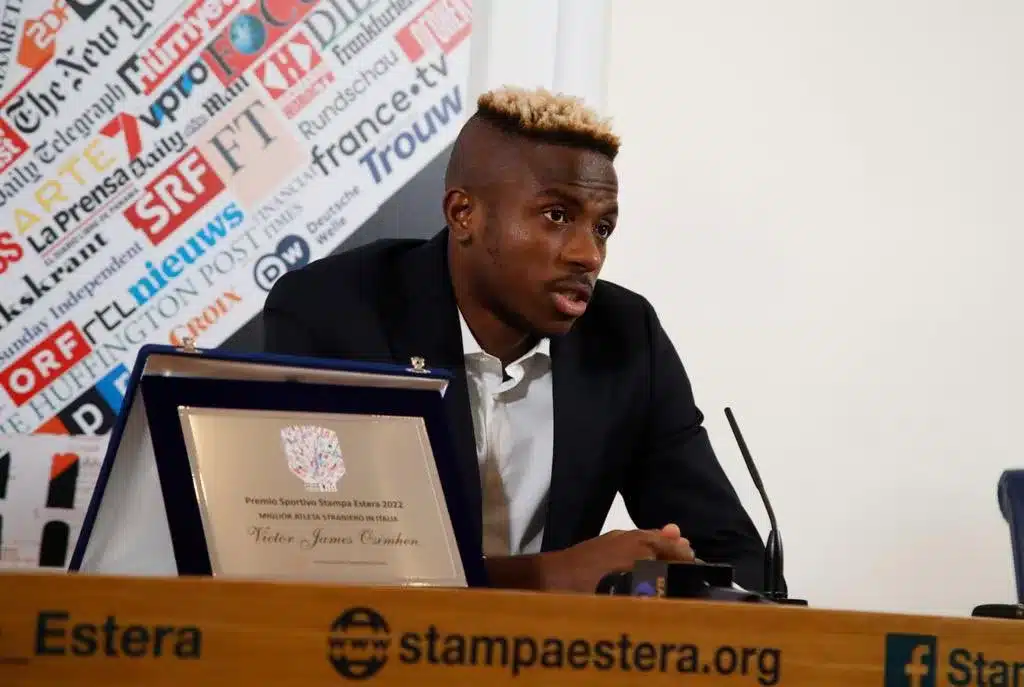 The 24-year-old is being reportedly courted by many Premier League clubs including Manchester United, Chelsea, Arsenal and Newcastle United.
Sky Italia's Filippo Benincampi says the in-form striker would be a perfect fit in the Premier League, with the ability to score with both feet and his head.
He said, "He's outstanding, an outstanding player. I haven't seen a player like him in Serie A since the good old days. He has everything; he's got pace, he's strong, he's hungry.
"He scores with headers, left foot, right foot, you saw it against Frankfurt where he scored twice but one was ruled out.
"He wears a mask because he got a very bad injury, and you think if you get an injury like that you'll be afraid of duels – but not him.
"He's the perfect Premier League fit. He's got all the qualities required, he's very strong, the tempo is high.
"He's demolishing the Italian league because the tempo is a bit slower, but in the Premier League with all that pace, the speed, the qualities and mentality – I think he'll be perfect."