Victor Osimhen has established himself as one of the top footballers in the world after an impressive performance this season, scoring 31 goals and providing five assists in 39 games across all competitions. His remarkable achievements have led to his recognition as the 4th most valuable player in the world.
This confirmation comes from a reputable football statistics website Transfermarkt, which ranks Osimhen's value higher than renowned players such as Lionel Messi, Cristiano Ronaldo, Harry Kane, Rafael Leao, Aurelien Tchouameni, Gavi, Rodrygo, Jamal Musiala, Bukayo Saka and many others.
While Napoli has set a transfer fee of €150m to deter potential suitors like Manchester United, Chelsea, Arsenal, and Paris Saint-Germain, among others, Transfermarket suggests that Osimhen's market value which was updated today stands at €120m. However, depending on the strength of the bids, he could be sold for an even higher amount.
Notably, the top 10 list of the most valuable footballers in the world features players from prominent clubs such as Manchester City, Arsenal, Barcelona, Real Madrid, and PSG. Osimhen is the sole representative from the Nigerian national team, the Super Eagles, on this esteemed list.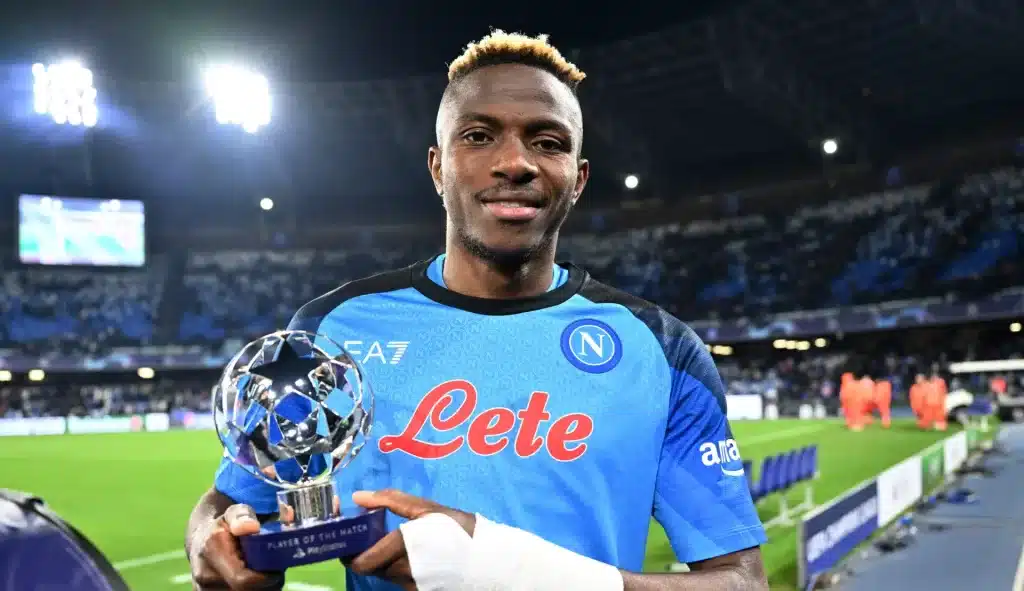 Sitting atop the rankings is Kylian Mbappe, the most sought-after forward from PSG, with an estimated value of €180m. Following closely behind is Erling Haaland from Manchester City, valued at €170m. Vinicius Junior, the tricky winger from Real Madrid, secures the third spot with a value of €150m. Jude Bellingham, who was recently unveiled as a Real Madrid player, is valued at €120m joint fourth with Osimhen while Jamal Musiala, the talented youngster from Bayern Munich, completes the top 5 with a value of €110m.
Next on the list is Bukayo Saka from Arsenal (€110m), Phil Foden from Manchester City (€110m), Pedri, the promising wonderkid from Barcelona (€100m), Rodrygo (€100m, and Federico Valverde from Real Madrid (€100m), rounding out the top 10.
Osimhen is ranked the best amongst players from the Italian Serie A and Napoli, he is also the highest-ranked Nigerian player in the world while he is third on the list of the most valuable strikers worldwide.