Fabio Wardley knocked out David Adeleye in the seventh round of their All-British grudge heavyweight fight in Saudi Arabia to claim the WBO European, WBA Continental, Commonwealth, and British heavyweight titles and remain unbeaten after 17 professional fights. 
The loss is the first for David Adeleye who went into the fight with an impressive unbeaten record of 12 fights, 12 wins, and 11 of the victories coming by knockout. 
The 26-year-old London-born boxer of Nigerian descent had been bullish going into the fight against the more experienced Wardly. The anticipation for the fight skyrocketed when both fighters clashed physically during the Tyson Fury Francis versus Ngannou press conference earlier in the week with Wardley getting hit in the face by one of Adeleye's entourage. 
Also read: 'They believed him over me': Divine Oduduru reveals how agent 'framed' him, AIU ignored his evidence
Wardley who improved his records to 17 fights, 17 wins, and 16 knockouts controlled the fight from the start keeping Adeleye on his heels all night. He landed several shots to the body of his compatriot and also connected several jabs and hooks.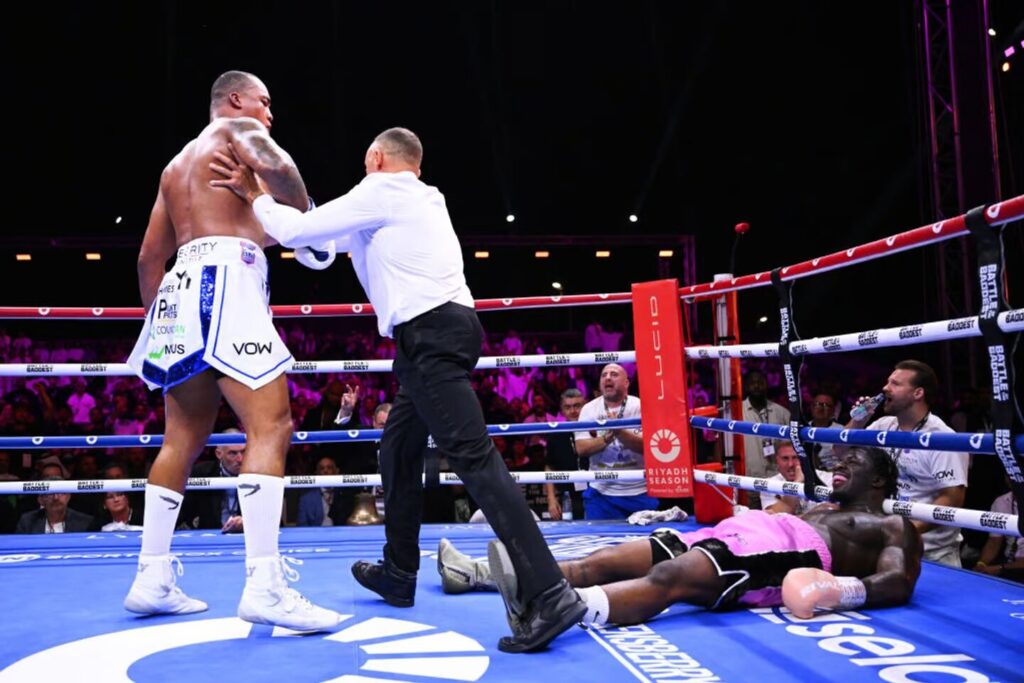 David Adeleye had his moments of brilliance and connected a couple of shots that gave Wardley some sort of discomfort but the Ipswich-born fighter was up to the task.
Wardley knocked down Adeleye in the seventh round. While his opponent beat the count, the continued flurry of punches forced the referee to wave the fight in favour of Wardley to the anger of Adeleye who protested by shoving the referee away.
Reacting to the win, Wardley said he knew the outcome of the fight was going to be a knockout victory for him also stating that he won because he was the smarter fighter who failed to fall for Adeleye's bait despite the temptation. 
"I knew that's how he was going to come out," Wardley said of Adeleye's aggressive start. "He was trying to goad me, getting me to come forward. I do that when I have to but I'm smart, I have boxing IQ. I showed the difference in experience. I knew what to do when things didn't go my way. I was punching through the rounds. I was in form. That's probably the best I've felt.
"I'm smart. I'm beating high-level amateurs over and over again. I don't know what people want from me to show that I'm serious about this game.
"Any man that beats the count shows their heart. But I knew I had more in the tank and I knew I was going to get the knockout."