After missing the Phoenix Suns' 117-112 win over the Brooklyn Nets due to a nose injury suffered in the first quarter of Suns loss to the Memphis Grizzlies on Tuesday, forward, Josh Okogie, returned to action and lead the Suns in scoring to help them overcome the Indiana Pacers 112-107 at the Footprint Center, Arizona on Sunday.
Okogie recorded a double-double in the game scoring 24 points, 10 rebounds, four assists and a season-high four blocks in 34 minutes of action from the bench. Mikal Bridges added 22 points, four rebounds and four assists while Bismack Biyombo had a big day on the court scoring 12 points, 16 rebounds and two assists.
The Suns' had a depleted roster for the game as they missed four of their five starters – DeAndre Ayton, Chris Paul, Devin Booker and Cameron Johnson but it was not an issue as Okogie led the deputies to deliver the goods.
Suns head coach, Monty Williams, referred to D'Tigers star as a superman also commending his offensive and defensive display in the win.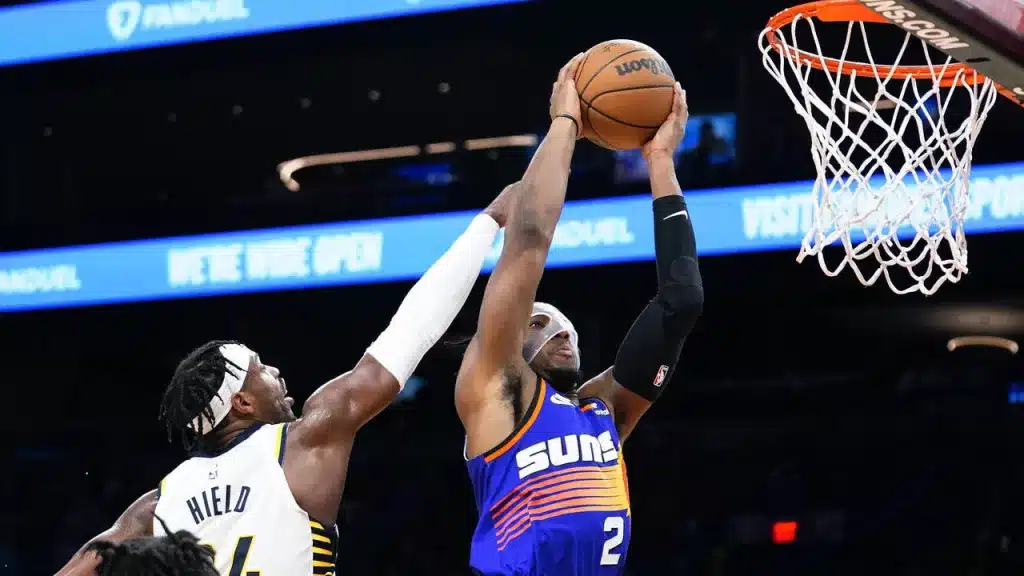 "Josh Okogie. I mean to be able to get to the free throw line, think he had 15 free throws, the transition defensive plays he made, the Superman tip in that he had, the three, like he was everywhere tonight," praised Monty Williams.
"He came in with an attack mentality, getting to the free throw line, defensively, he was a stud and to do all that with a broken nose and your face feeling like you got a lot going on, he was stellar tonight." 
Reacting to his performance, Okogie says it was an opportunity for him to help the team in any way he could with the number of top absentees mainly due to injury.
"With guys out, obviously we are lacking in a lot of areas. For me, I feel like that is an opportunity for me to fill in those voids where I feel like we are lacking. Every time I go in the game I just go in the game with ultra-aggression and do what I can to impact winning," said Okogie. 
"Not only just reading the game but reading my teammates. Knowing what they are about to do. I know a lot of times when Bis (Bismack Biyombo) gets the ball, he is going to do his hook shot. 
"I know Myles Turner is one hell of a shot-blocker, so he is going to go for the shot block. So, he can't shoot-block and get the rebound. Every time Bis shoots the ball, I try to run in there. Anytime anyone else shoots the ball and my man looks off me for one second, I just go. I don't really know where the ball is going to go; I just try to follow it the best I can."